Fine Art journal
Landscapes + unique ideas
I took some beautiful landscape and wildlife shots at the Grand Teton and Yellowstone National Parks!
This was my very first time going to a national park and I fell in love! Landscapes photography in National Parks are a dream come true. Every where you looked could have been an extraordinary photo. Here are a few of the shots I took. For almost all of these, I focused on foreground, reflections, or color. I bracketed all of these landscape photos. That means I took some really light photos, dark photos, and in-between photos and then merged them to make an amazing picture. I found that after that, Not a lot needed to be done!
Grand Teton National Park Landscapes

For this photo, I found a bunch of rock towers by inside the Teton National Park! I thought it would make a really fun landscape photo. After I took this photo, the rocks tumbled to the ground. Darn!

The rocks here were so beautiful! I really wanted to capture all of their colors but I also wanted to take a picture of the mountains. So, I decided to have some lens compression by zooming in and backing up.
Yellowstone National Park

Here it is! My absolute favorite landscape photo. Golden hour is truly amazing. When I saw that the sun was reflecting on a pond, I knew I had to take this photo.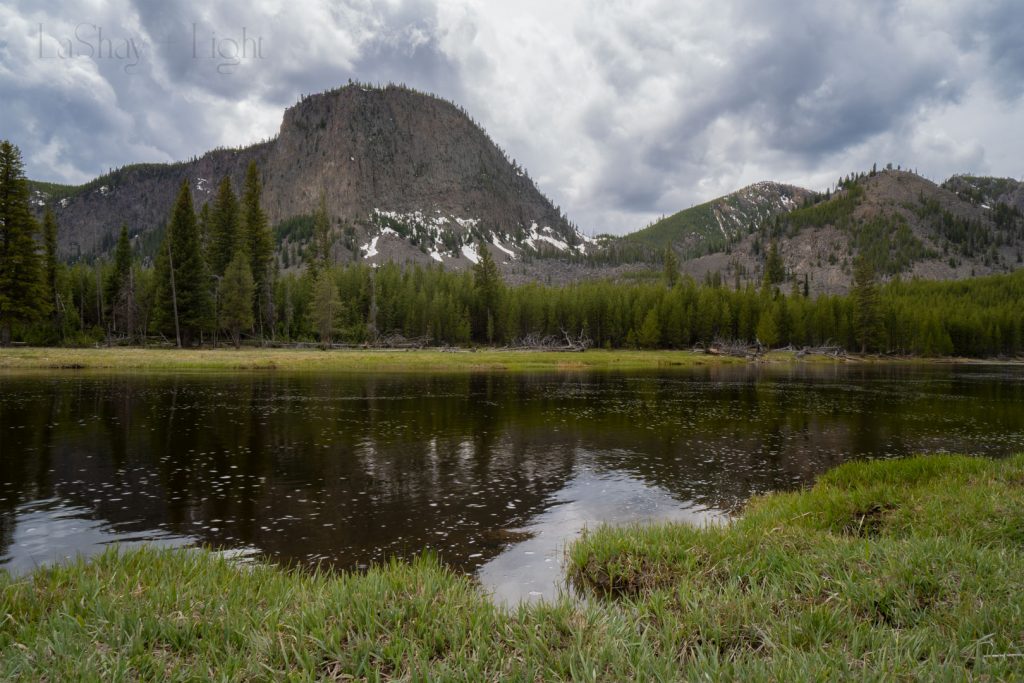 This buffalo was happily grazing in this meadow! He didn't have a care in the world. All though he wasn't moving quickly, I didn't want to take any chances. So I used a high ISO and a high shutter speed. That way, if it blinked or made any sudden movement, I would capture it.
Landscape photography and National Parks are a matched made in heaven. I absolutely loved taking these shots and can't wait to take more!
Painting with light takes product photography to a whole other level
I love product photography. If I didn't love wedding photography so much, I'd probably do product photography full-time. I love doing it in my free time and I think I may have found my favorite technique: light painting.
Light painting is when use a long exposure and run a light around a subject. This creates interesting shadows and tones. It can also make colorful light trails. One of my favorite photographers, Mark Duffy, uses light photography in his work. Inspired by his work, I tried out light painting product photography myself.
Light Painting Soda
Right when I decided to light paint products, this image immediately popped into my head. I love the colored light soda bottles give. So, I decided to shine a light on the bottles to get these colors. This photo is actually three photos merged into one. One photo got the light onto the ground. The second lit up the Grapefruit Kiss logo. The third and last photo lit up the bottle caps.
l love this photo so much! When I took this photo, I couldn't stop smiling! To get this photo, I had a light in multiple places. The first one was underneath the plexiglass. This gave the bottles a nice glow from underneath. Next, I used a flashlight to light up the Coke labels. Finally, I used a pen light to create the sunbursts and highlight details. This is definitely one of my favorite pictures!
I did basically the same technique for this one as I did for the Coca-Cola photo. My favorite part of this photo is the sunburst on the Shirley Temple soda bottle. It reminds me of a sunrise!
Miscellaneous Light Paintings
These two photos are a little random but I like the way they look! Both are more than five photos merged together, each photo lighting different parts of the subjects.
Conclusion
I absolutely loved making these photos. It goes without question that I'll definitely be using the light painting technique more with product photography. The only question left is what product I should photograph next? Let me know what you want to see next in the comments below!
Light Painting Outdoors is Really Amazing!
A long exposure is when you let the camera take a photo for a long time. This can take as long as 1/25 of a second to minutes! Long exposures create beautiful blurred motion. This is often used in outdoor landscape photography, particularly when water is involved. Although it's extremely beautiful, it can be seen as overused. I'm not saying that being super popular is a bad thing. I've definitely used long exposures to shoot water. But I wanted to experiment with outdoor exposures and see what I could do with it. So, I decided to do some outdoor light painting!
Portrait Light Painting
I loved this session! It was heavily inspired by JanLeonardo's work. He's always playing with light and pushing the limits of photography.
I can't believe how beautiful they turned out. It was challenging to take these photos. To capture the light movement outdoors, I had to have a long exposure — around 15 seconds long. This gave my helper enough time to paint light around the model. However, since it was a long exposure, my model had to hold really still so the photo wasn't blurry. She was such a champ! These photos really wouldn't have been the same without her.
Outdoor Architectural Light Painting
These two images are a little different than the portraits. For these two, I set up my camera on a tripod for a 20 second-long exposure. Then, I had some use a hold up a continuous light and light up certain areas of the abandoned house and the bridge.
Final thoughts on light painting photography
I had a lot of fun playing with long exposure and light. It makes me wonder what else it can be used for! Comment down below what you want to see me do next!
E-Mail
kaylee.lashaylight@gmail.com