If you're planning out your wedding mood board, here's some of my favorite pictures for inspiration.
While I was shooting at my last photoshoot, I took some beautiful detail shots. As I was editing them, I started thinking how wonderful these would be for wedding mood board inspiration! So here are a few of my favorite photos from my last photoshoot. They're warm and magical photos, perfect for wedding inspiration.
But before I go any further, I highly recommend reading this article on how to make an effective wedding mood board. Read that so you can use the photos I'm about to show you to their full extent.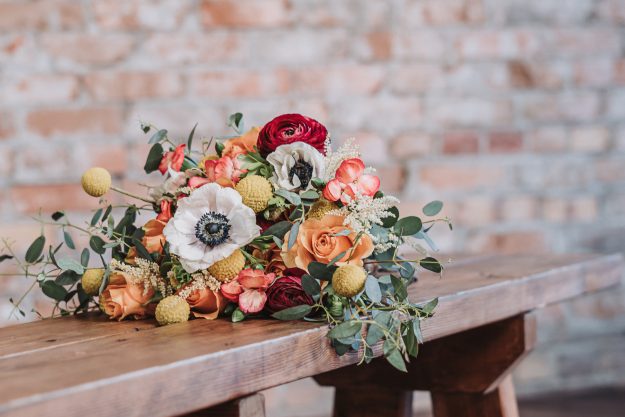 I love these flowers so much! The deep burgundy and yellow are such a beautiful color combination. I highly recommend Brides to get bouquets like this! Or have your color scheme for your wedding be burgundy and yellow. Either way, this photo is definitely wedding mood board inspiration worthy.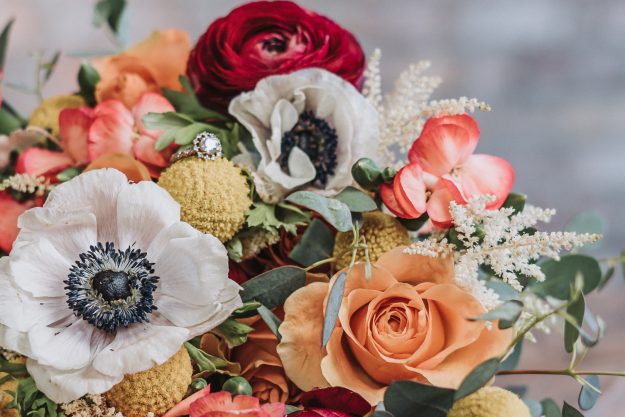 Now this may just look like a closeup of the previous photo but don't be fooled! A beautiful diamond wedding ring  is in the flowers. You can't have wedding mood board inspiration without showing a beautiful wedding ring and your color palette! So, I decided to put the two together?
But that's not all I did. I was imagining a film-like, nostalgic wedding. So I added grain and matted the image to make it look like it was from an old movie. I love this look and I hope you do too.
This is the last bouquet photo, I promise. But I just needed a shot with the wedding ring, bouquet, and the wedding dress. It was a necessity! I love the brick pattern in the background, the texture in the flowers, and the lacey details in the wedding dress. How could I not share this one?
Maybe you're a ballerina or maybe you just love ballet, but can you imagine a ballet themed wedding?! Just imagine ballerinas performing at your wedding. Yep, put that on your mood board. Ballet is just so elegant and romantic, everything you want your wedding to be like.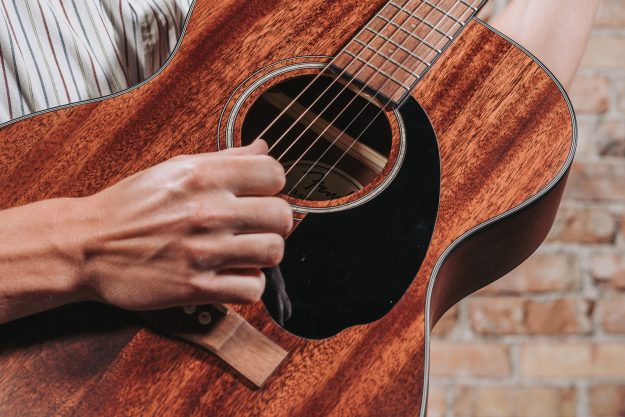 Now I'm going to take a wild guess and say that you like music and you're going to play some music at your wedding. Was I right? Well, can you imagine having actual musicians at your wedding singing the sweetest serenades for you and the love of your life? I thought so.
I hope these photos helped you determine what you want in your wedding! If this has helped you decide that you want someone like me as your photographer, well, you can always contact me here on my website!