Couples Journal
A blog dedicated to cute couples
This is the place to learn about past couple photoshoots I've done, learn about locations, and find posing ideas.
Tips from your favorite
engagement photographer
This is the place for lovebirds. Whether you're wanting to plan a surprise proposal photoshoot or a fun date idea, this blog is for you!
I made this to help you make confident decisions when it comes to choosing your engagement photographer, even if it don't choose me. If you have any questions, or ideas for my next blog post, let me know!
Couples Blog
Go ahead and binge read, I don't judge.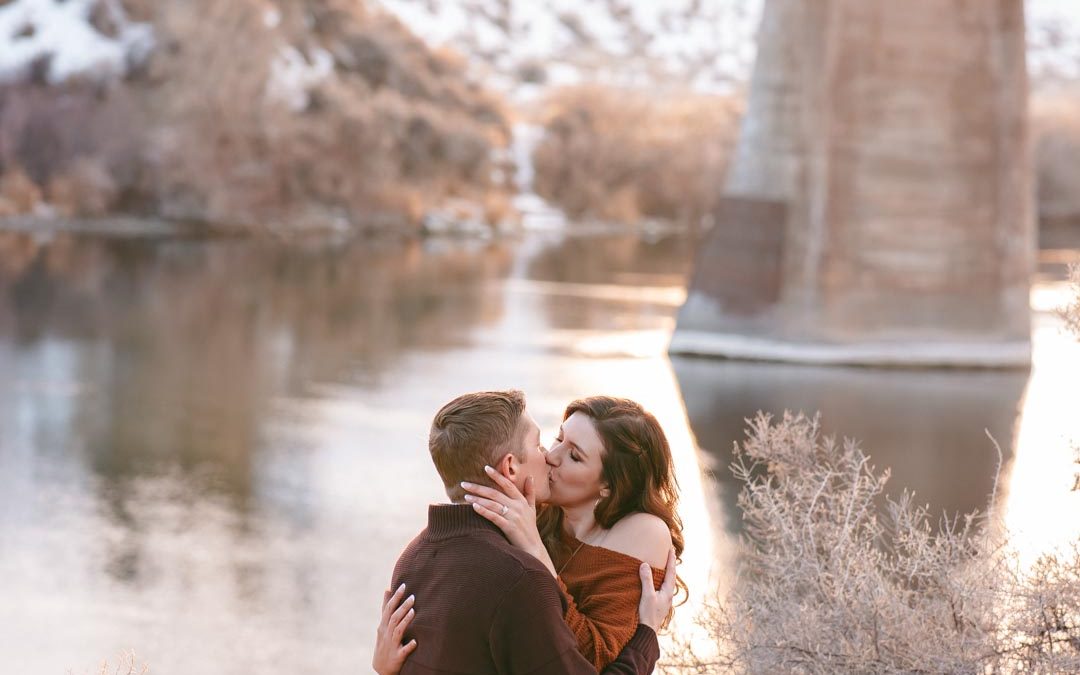 I shot the most beautiful winter engagement photoshoot in Idaho!
Idaho is a beautiful state. Living here means that there is a ton of amazing photoshoot locations. I recently shot the cutest engagement photoshoot in Melba, Idaho! Here's how it went.
Getting to Celebration Park
The couple (let's call them Keith and Millie for anonymity) actually lived in the Boise area. However, after discussing photoshoot locations, we decided on Celebration Park in Melba, Idaho. It's about a half hour drive from the Boise area and offers really diverse background options. But getting there can be tricky. Google Maps took me to a really weird route to get there. I arrived at what Google told me was my destination. However the "private property" signs and lowing cows told me otherwise. Thankfully, I always come to my shoot locations early.  After looking at a map, I was able to get to Celebration Park with time to spare.
After getting all of my camera gear ready, I met with Keith and Millie to start our engagement photoshoot in beautiful Melba, Idaho!
The Guffey Butte Bridge
Whenever I'm doing an engagement photoshoot in Idaho, or anywhere really, I always try to get diversity in my photos. No one wants to get there gallery and see the same bush, river, or mountain in every single photo. It's important to get angles! We first started at this beautiful bridge called the Guffey Butte Bridge. I really wanted to make sure we got some photos of the bridge from a bunch of angles.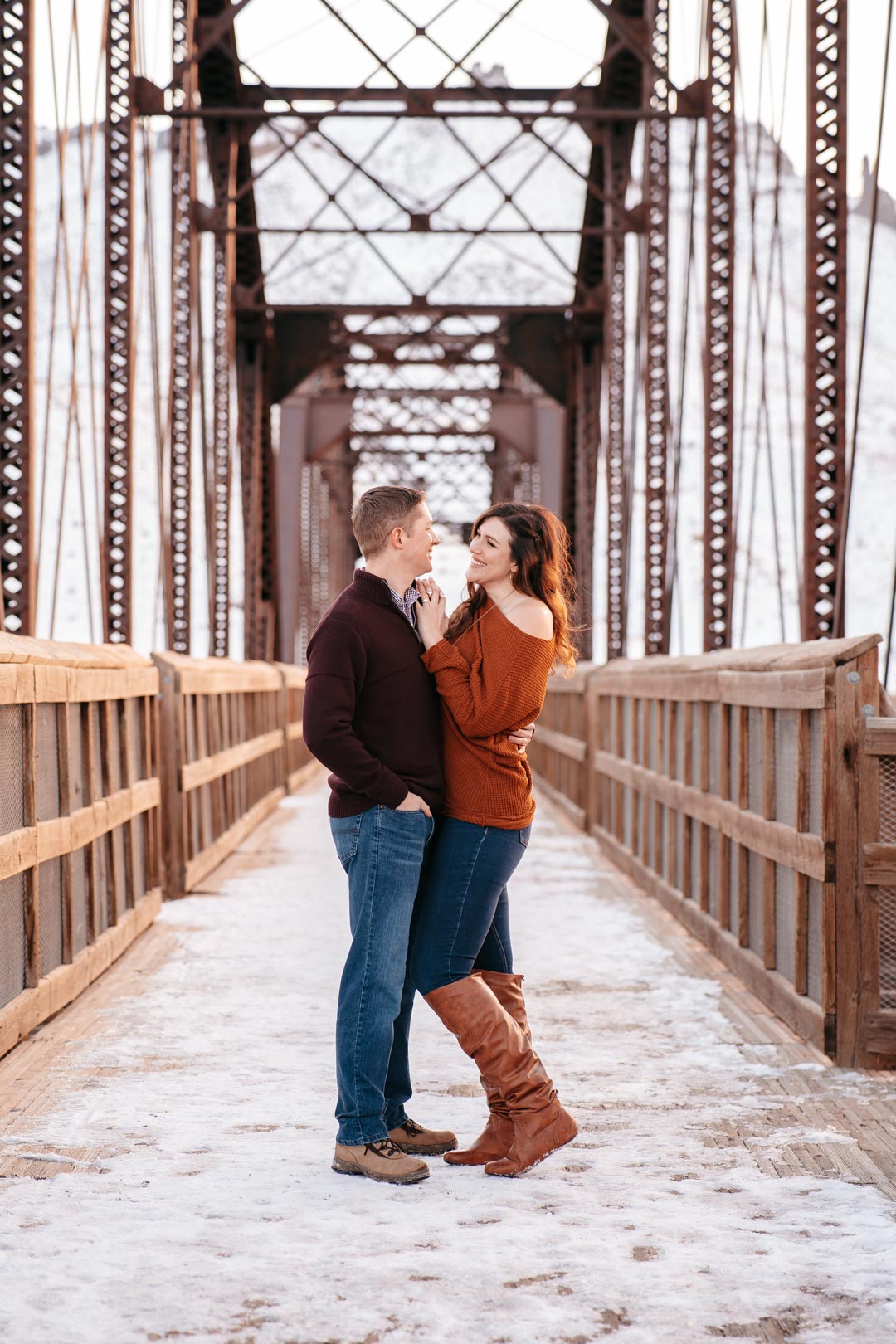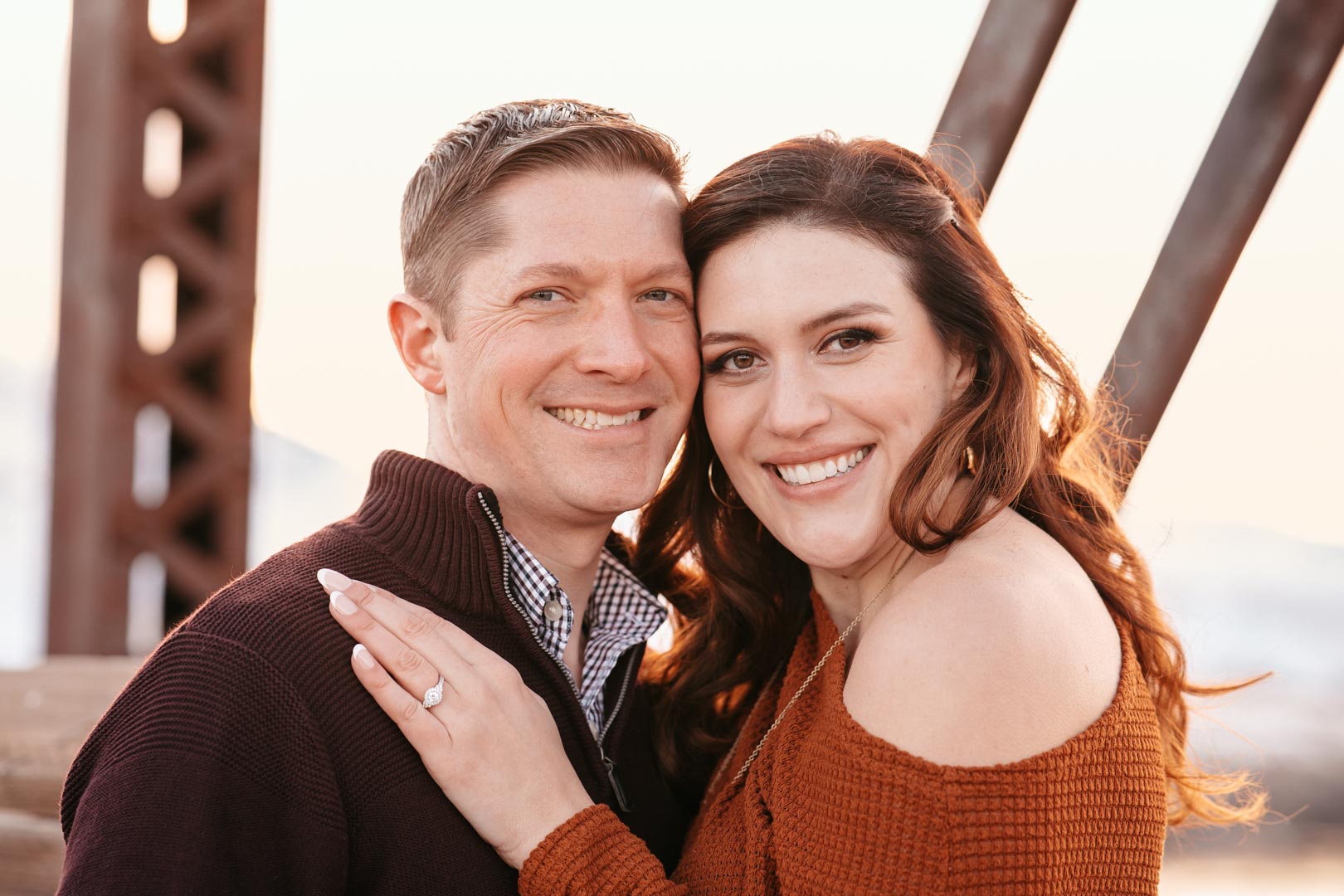 I first started by taking some photos inside the Guffey Butte Bridge, then I moved to outside the bridge. The sun was setting in just the right place to make a beautiful glow coming through the bridge. It was so beautiful!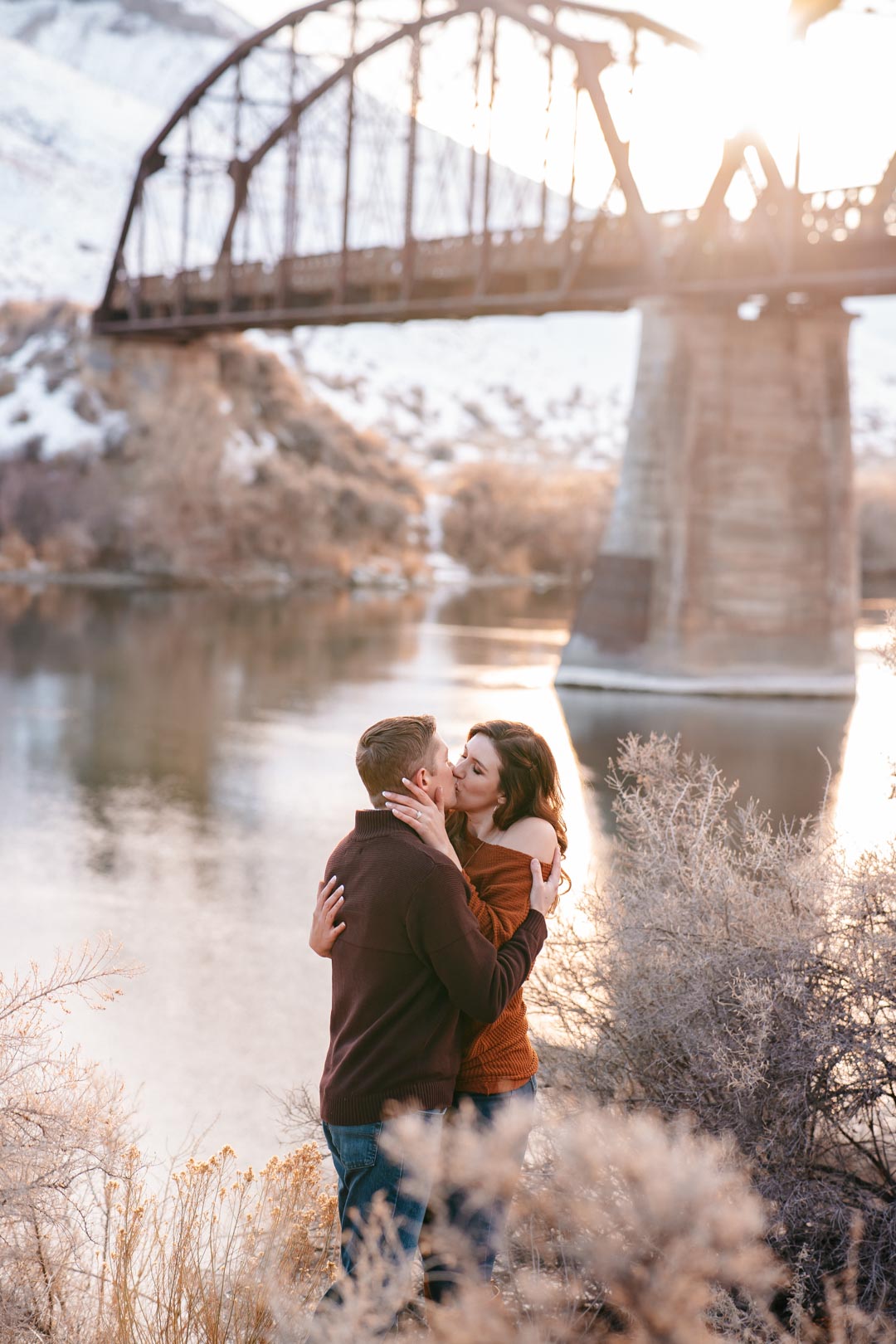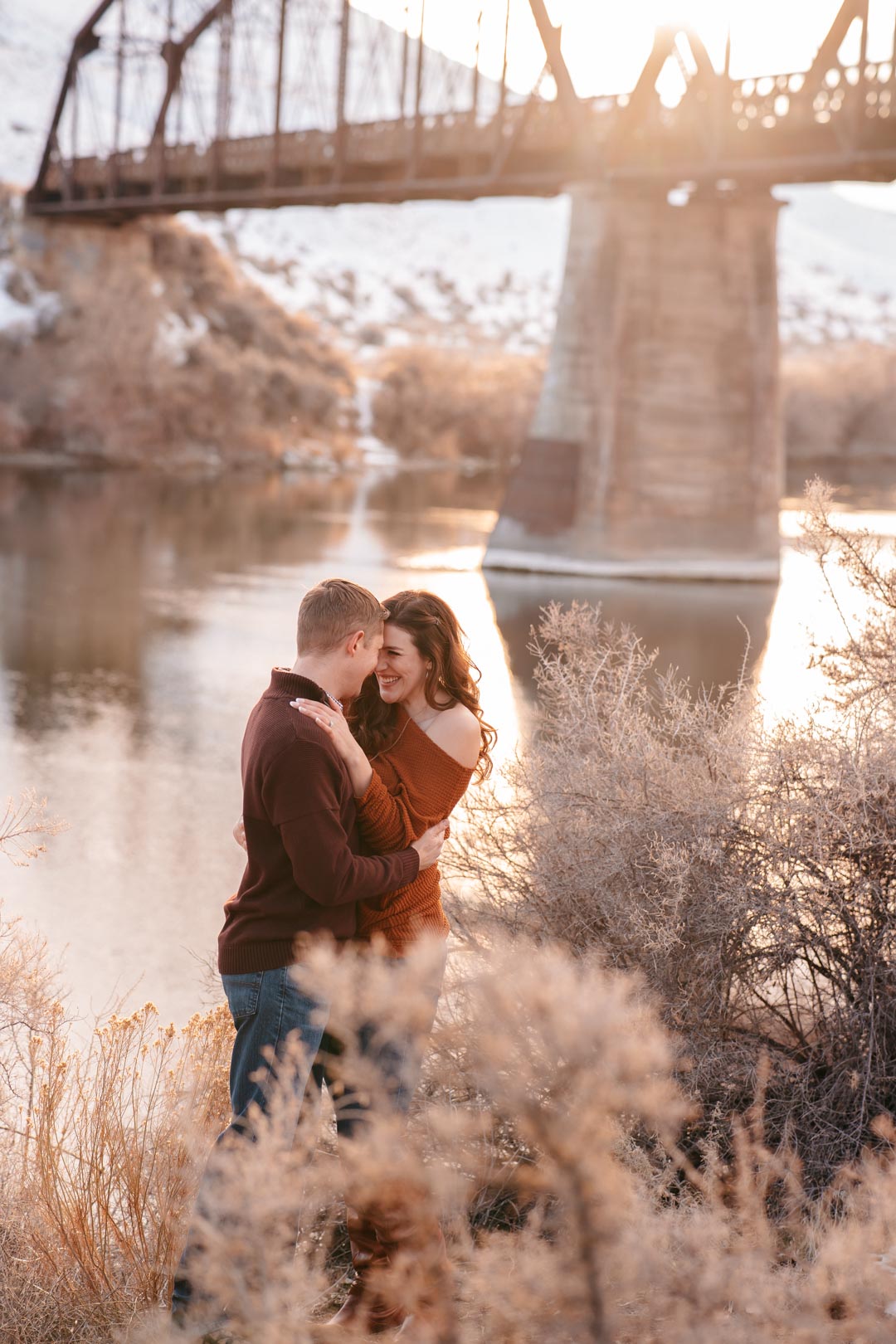 There's a right way and a wrong way to do candid engagement photography. Many photographers make the mistake of just letting the couple roam and just hope that they'll get some cute photos. Over the years, I've found that to get gorgeous candid photos nearly always start posed. I always pose my couples, give them a prompt, and let them take it from there. So, for these photos, I first posed them. I arranged their hands, angled them, and then I prompted them to kiss. Millie broke off the kiss, laughing. And I was in the perfect place to click away!
My favorite location for engagement photoshoots in Idaho: Snake River
The last two photos gave you a little sneak peak of the beautiful river that runs through Celebration Park. It's called Snake River and it creates stunning engagement photoshoot locations all across Idaho, Oregon, and even Yellowstone! Rivers give such a beautiful touch to any photo, so I try to add them whenever I can.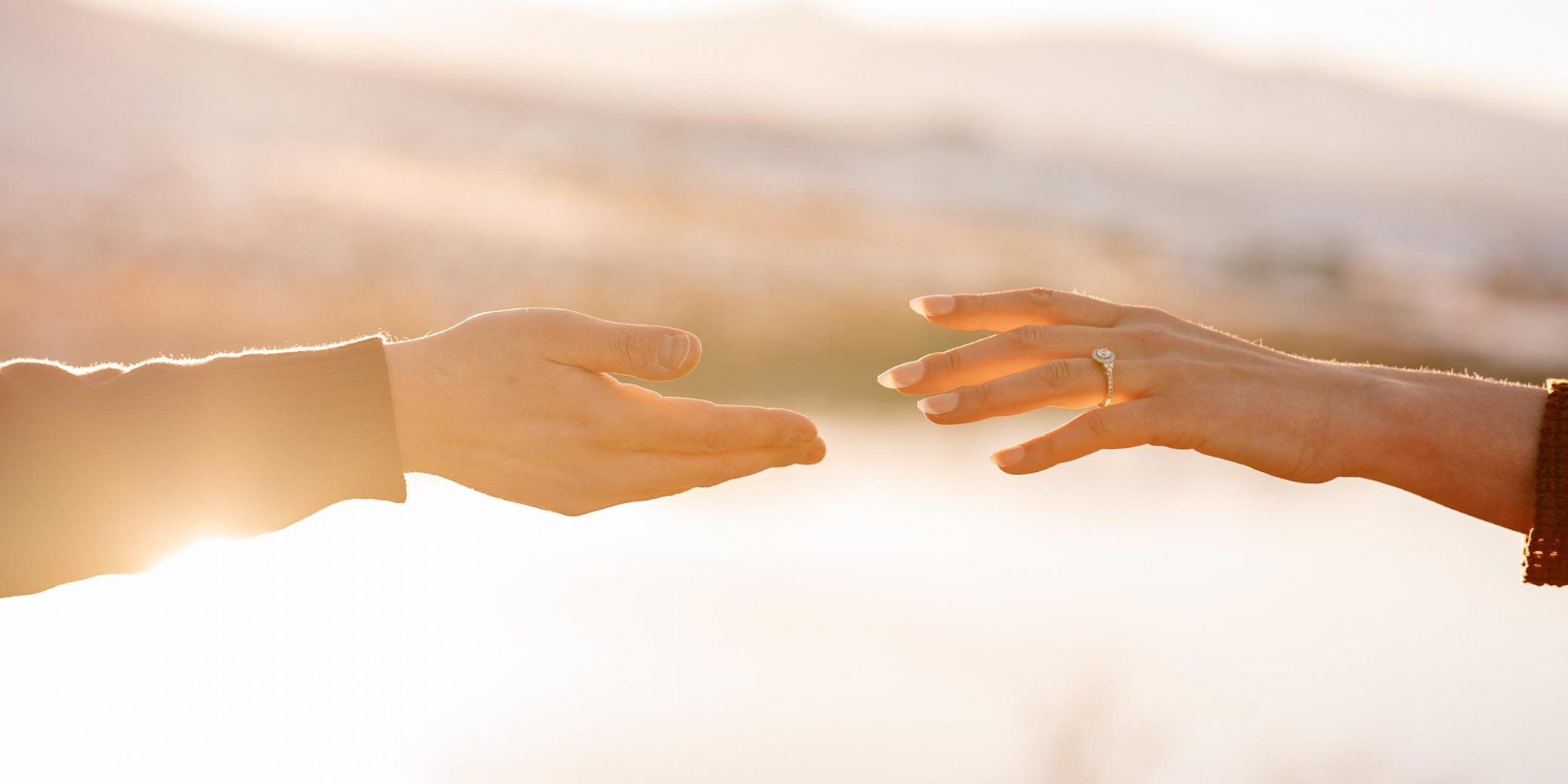 The river is subtle in this one but it adds something really cool to this photo. Can you see it? The reflection of the sun in the water is creating a beautiful sun flare right below Keith's arm. I love using light like this. It gives this photo a sort of out-of-this-world look, almost like the background is flipped upside down.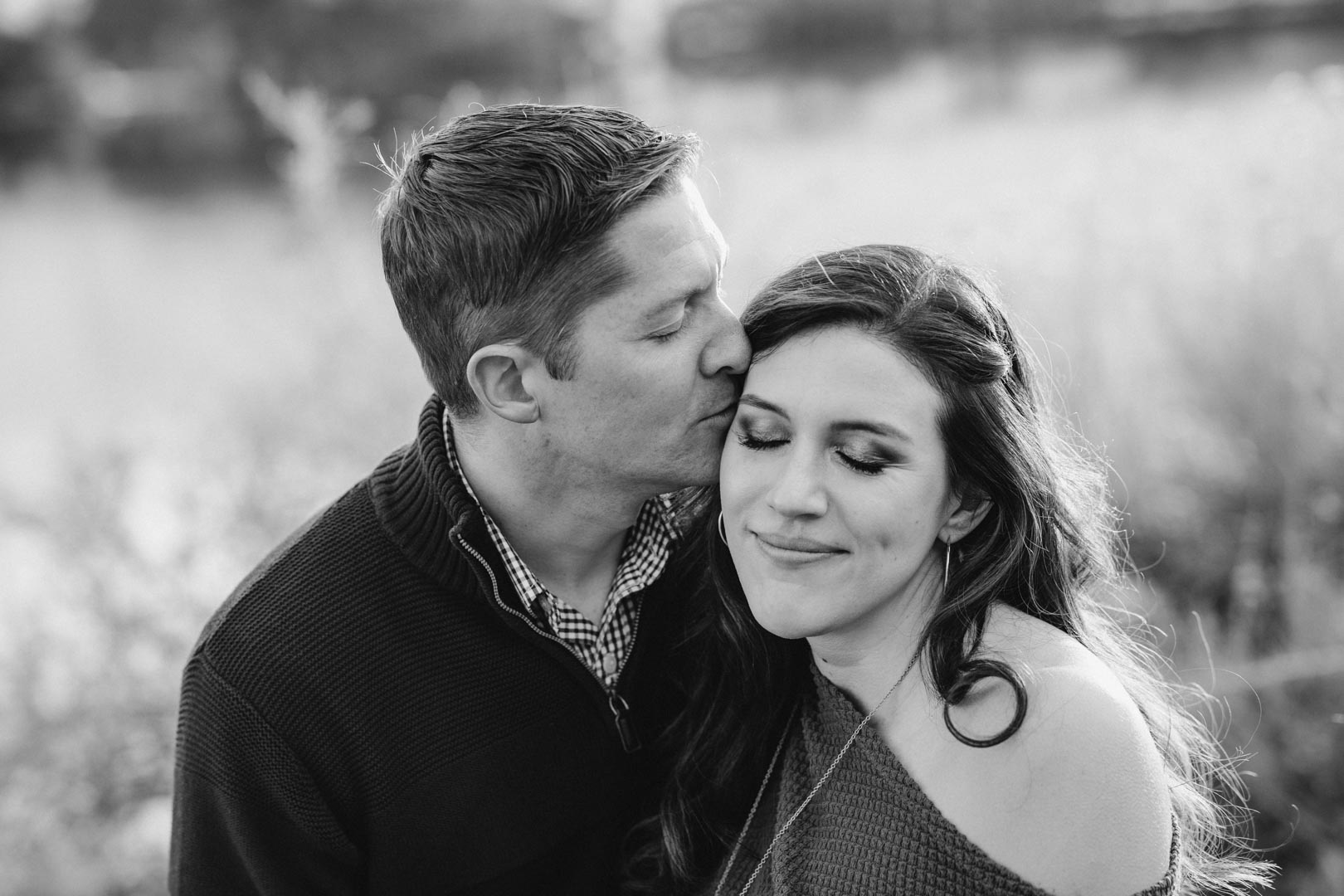 I always add black and white images in my galleries. It gives my photos such a soulful artistic look that I'm obsessed with!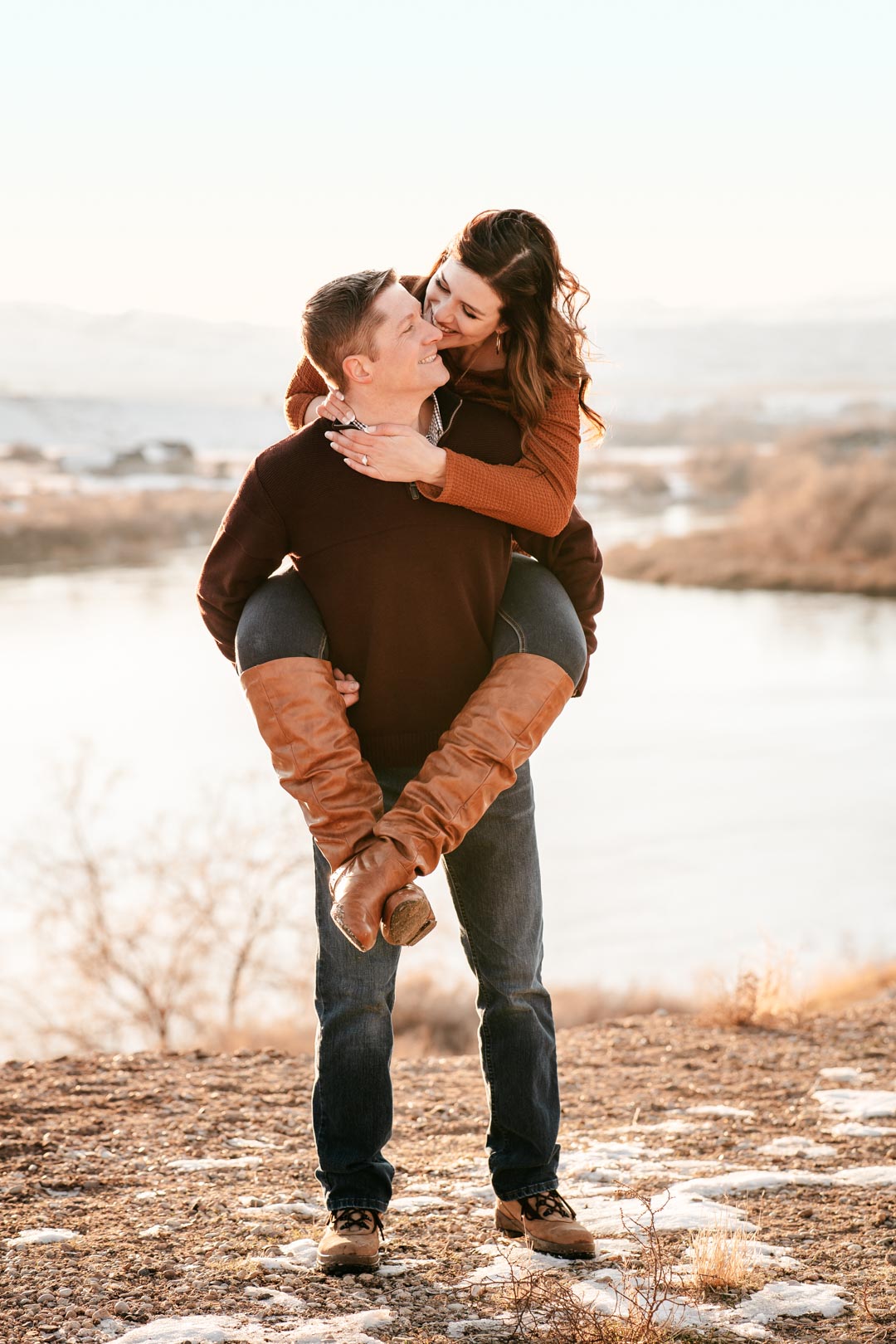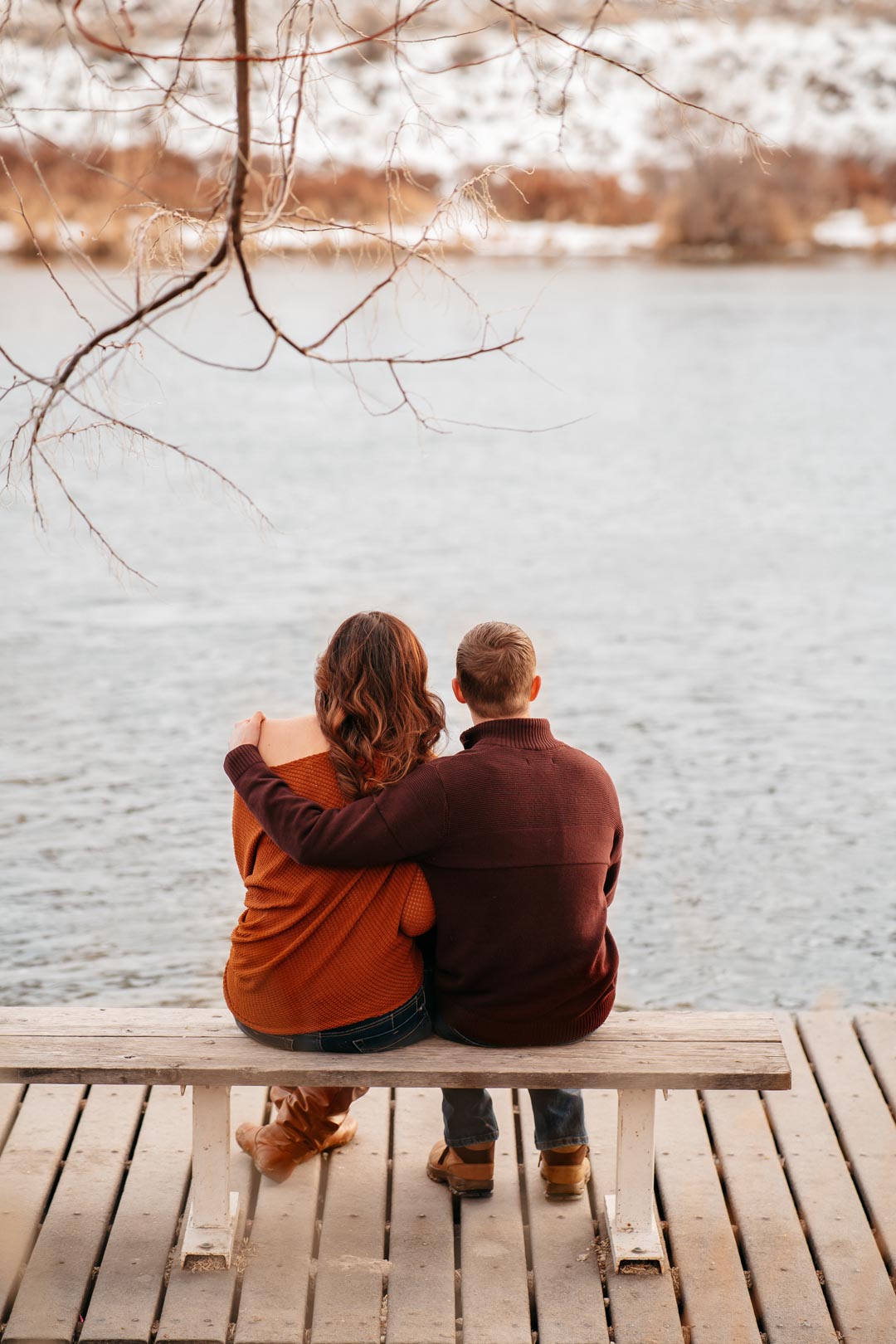 Angles are super important, not just with backgrounds. In this photo, I had Keith and Millie look out and imagine their future.
Rocky Mountains
Okay, maybe Celebration Park isn't part of the Rocky Mountains but it does have some rocky mountains. That counts, right? I absolutely love these mountains. They are so beautiful!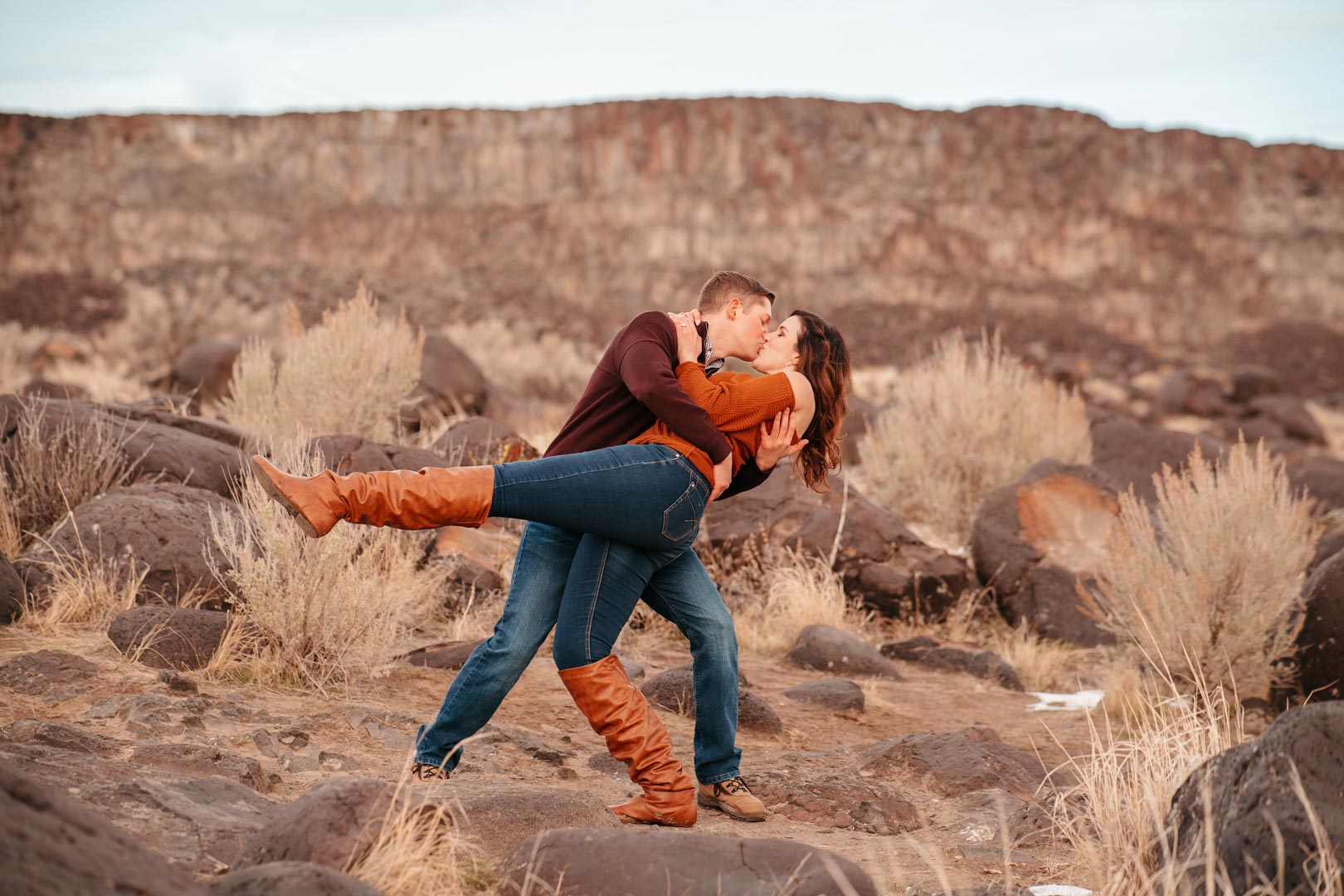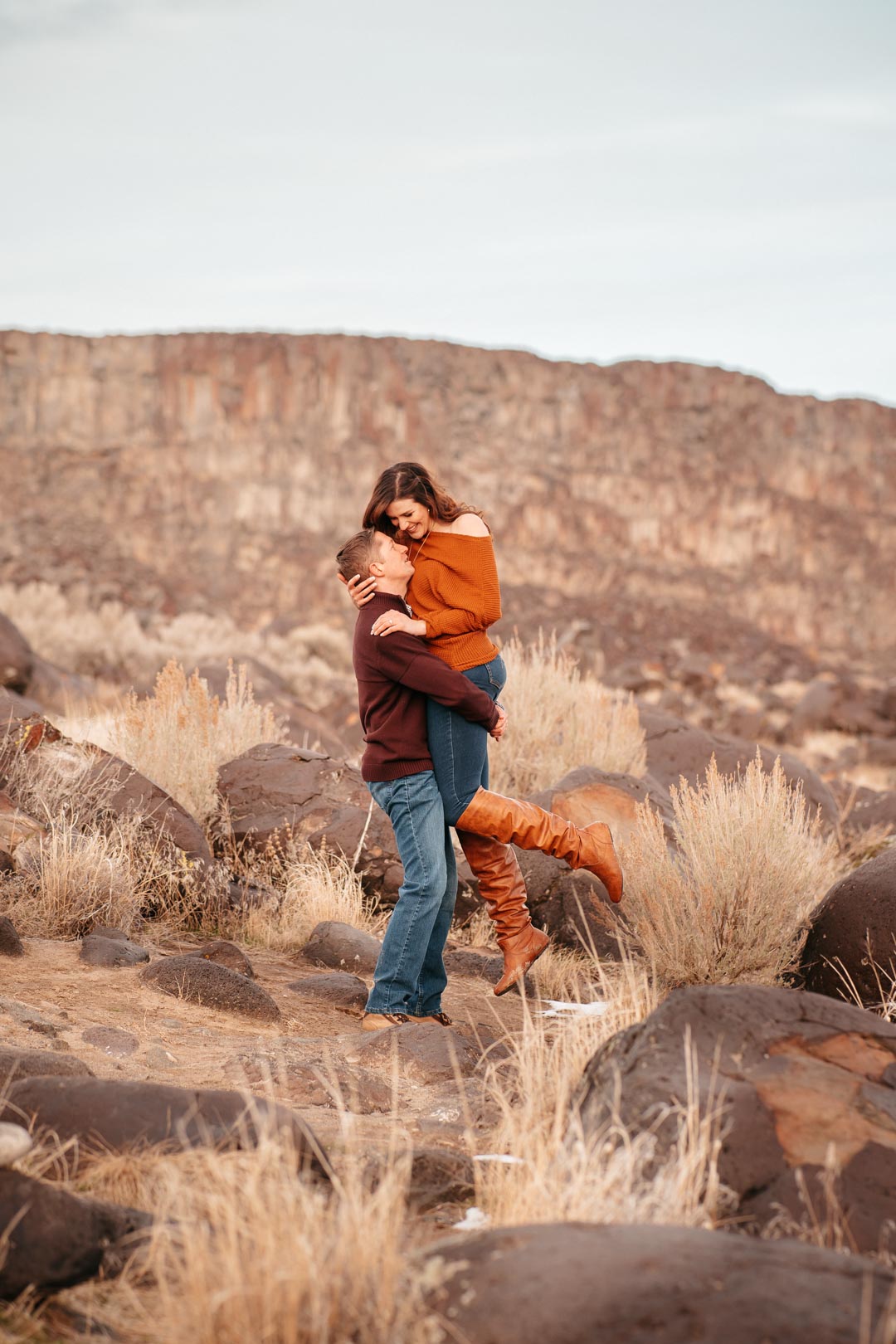 Conclusion:
Keith and Millie, you're amazing! Thank you so much for choosing me as your engagement photographer.
For those reading and looking for an engagement photographer in Idaho, let's talk! Tell me all about your love story, your vision for your shoot, and let's make magic.
xoxo chat soon,
Kaylee from LaShay and Light Wedding Photography
SERVICING
Idaho | Montana | Washington | Wyoming | Utah
and anywhere else love takes you